FMC schedules hearings on fair port practices
Posted by Richard Strauss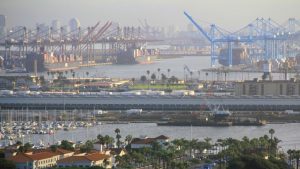 Source: Loadstar
The Federal Maritime Commission (FMC) has announced that it will hold public meetings on January 16 and 17, 2018 in Washington, DC, to receive testimony from maritime industry witnesses regarding a petition filed last December by the Coalition for Fair Port Practices that raised issues associated with detention, demurrage, and per diem charges.
Cargo owners and trucking companies are normally given a certain number of free days to pick up containers from ports, after which they can be charged demurrage. Detention and per diem fees can also be charged if containers and chassis are not returned within a specified time. Controversies over penalties have pitted shippers and truckers against ports, terminals, and ocean carriers for some time, coming to a head last fall when the bankruptcy of South Korea's Hanjin Shipping left cargo owners unable to pick up containers on time and preventing them from returning empties and chassis.
The petition before the FMC asks the commission to adopt a policy that would require free days to be extended when delays are caused by circumstances beyond the control of the parties. Shippers, intermediaries, terminal operators, and ports have already filed comments on the pending petition with the FMC.
A typical comment in support of the petition came from Matthew Brauner, president of Brauner International, Corp., an ocean transportation intermediary. "Recurring port congestion resulting from significant weather events, port labor issues or inadequate port infrastructure have caused lengthy delays in moving the cargo and empty containers," Brauner wrote. "Yet, ports and carriers have routinely assessed demurrage and/or detention charges to us and/or our customers even though the delays in moving the containers are normally beyond our control." Arguing with carriers or ports, or challenging the bills before the FMC "is time consuming and unwieldy," Brauner added.
Other shippers and forwarders recounted nightmare scenarios of being charged ungodly penalties for situations beyond their control. Marina Radcliffe, regional trade compliance manager at APL Logistics, wrote that one of her customers incurred penalties of over $375,000, and that APL was hit with $57,000 in demurrage as a result of the Hanjin bankruptcy.