Analysis: Hamburg Süd integration makes it a different financial ballgame for Maersk
Posted by Richard Strauss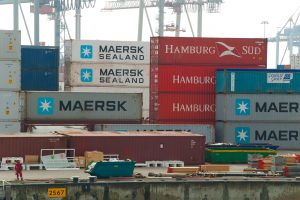 Source : Loadstar
Late 2017 tailwinds are likely to boost the annual results of all the major container shipping players over the next few weeks – regardless of certain imminent risks, which I highlighted recently. But it is market leader Maersk Line that deserves our attention now, not just to determine broader market trends but also to discern if its current corporate strategy makes sense or not.
As always, Denmark's largest conglomerate is the first to report its figures come the earnings season, setting the tone for the industry, and it is worth guesstimating what its numbers will look like on 9 February, 11 days before its Capital Markets Day in Copenhagen.
Despite a recent share price bounce, the stock of parent company AP Møller-Maersk Group (APMM) still languishes 20% below a one-year high as well as around the levels of January 2017, when it was on a roll, thanks to its previously announced corporate restructuring plan.
Risk and return, from pain to gain
What comes next could be a doubling in value over time, although historically the day results are released, value destruction is more likely than short-term paper gains.
Clearly, the performance of the world's biggest box line is APMM stock's main value-driver, as it turns over the vast majority of group revenues and profits.
Even if you are more interested in trade dynamics than financial trends, it is important to understand that the integration of Hamburg Süd makes it a completely different game in Copenhagen, one where financial engineering is aimed at shareholders' wealth after almost two decades during which Maersk has assiduously tried to change skin, which, based on all-in returns for investors, was largely unsuccessful.
Will this time be different?
If all pieces of this jigsaw fall into the right places, capital appreciation could be spectacular from these levels, I reckon. What if I told you that I ran the numbers and returns of over 50% could be on the cards once its non-core energy assets were sold off?
In fact, that could be a conservative estimate.
Maersk needs a stronger narrative to become a more palatable equity investment, because while economic uncertainty will continue to weigh on its market value, investors continue to perceive it as being a benchmark in a highly cyclical industry that could become significantly less cyclical if the top five operators become more efficient and thus minimise the risk of being at the mercy of macroeconomic trends (as it was the case before consolidation started three years ago).
Irrespective of how the global economy plays out, value can be achieved – and value creation is a driving force behind this restructuring. A disappointing share performance in the nine years to mid-2016, under the stewardship of Nils Andersen – who was recently appointed as chairman of Unifeeder – and difference of vision between the board and executive management clearly led to his departure, but new management must learn from past mistakes.
A lengthy corporate restructuring – divestments of huge assets are always easier to promise than execute at decent prices – has not helped so far (it all started in mid-2016), and it is not surprising to read that certain asset sales will likely end up being a Maersk family affair. They are important, however; even more so when you focus on what really matters here: numbers for the new-look Maersk Line.
From P&L to value
There is little doubt in my mind that Maersk Line will beat top-line fiscal 2016 numbers, given nine-month sales of $17.7bn and fourth-quarter trends.
In 2016, sales stood at $20.7bn, but in the year ended 31 December 2017 it is certain, based on my estimates, that this flagship unit delivered a solid performance – I have assumed Maersk Line generated $23.8bn of sales, which implies a 15% growth rate annually.
(An Excel calculator can be had upon request, only by our clients. Please send me an email at alessandro@theloadstar.co.uk or contact the editorial team and we will revert to you within 21 hours.)
Assuming steady ebit and ebitda margins at normalised annual rates of 3% and 12% respectively, a conservative estimate for operating income is $780m.
These numbers so far have excluded the benefits stemming from the integration of Hamburg Süd, which in 2016 generated turnover of $6.2bn. The latest news about how the takeover of Hamburg Süd may disrupt Asia-Latin America trades can be found here.
ML + HS: a win-win?
In the coming weeks, management emphasis will be on revenue growth, but rising sales should be gauged against profitability, a key measure of operating performance, which is typically affected by trends in operating costs and cost of goods sold.
We do not have full disclosure of these items by units, but we can make other assumptions to determine a normalised level of core profits that could justify a reasonable valuation for Maersk Line, while trying to better understand if there is hidden value at all in this corporate story – on this matter, Hamburg Süd (HS) plays a pivotal role.
In fact, the pro-forma combined ebit of Maersk and Hamburg Süd – based on the assumption of zero upfront synergies but also that Hamburg Süd could be run as efficiently as Maersk – suggests that this year already ML/HS could have generated just a whisker below $1bn in terms of operating income if HS had been consolidated. I am a tad bullish perhaps, but so what?
High expectations; no new ships; an "orderbook lowest in a decade"; and a Hamburg Süd deal that "consumes all our energy" – these were some of the key remarks from Maersk Line's chief commercial officer, Vincent Clerc, on Bloomberg TV at the end of last year.
Mr Clerc demonstrated a cool head, answering several challenging questions, adding that more than 750 vessels will be there once Hamburg Süd is fully consolidated, while playing it safe with regard to expectations and saying that models are never linear given the cyclicality that characterises the industry.
(Note for the reader: APMM said in its third-quarter update: "Maersk Line's fleet consisted of 285 owned vessels and 383 chartered vessels with a total capacity of 3,5m teu by the end of the third quarter, an increase of 12.6% compared with third quarter 2016.")
This assumes $8bn of net debt would sit on balance sheet of the Maersk-Hamburg Süd container line business – but net debt could be lower, hence the multiple higher, or just the multiple higher. As a reference, based on Thomson Reuters data, the group's current value implies a forward 2018 EV/ebitda multiple of about 8x.
The implied net leverage would be less than 3x (based on the aforementioned margins) – and that is reasonable, judging by soaring levels in the industry. If we tweak down the amount of assumed net debt, say to $6bn, and up the multiple to 7x, upside would be 68% against the group's current value. But give it an 8x multiple, assuming constant net debt, and upside could be 92%. There could be so called "dis-synergies" to factor-in over the short term, but accounting risk is low with APMM, in my view, so the impact ought to be minimal.
What these numbers testify to is that APMM has no time to waste, either in its liner unit or in getting rid of unwanted assets. There are no sacred cows in its portfolio and remember that energy and transport assets were separated to exploit the value of Maersk Line, which this year could report $2.9bn of ebitda, barring unexpected adjustments and one-offs.
What in May 2016 – a month or so before Mr Andersen was sacked – was a nice thought experiment, could become reality sooner rather than later.